Offer Western Union Money Transfer® Service
Become an Agent and increase your revenue opportunities.
The benefits of joining our Agent network
Opportunity to increase your revenue and grow repeat business
Strengthen consumer loyalty by offering additional convenience with new services
Gain new consumers by offering money orders, money transfer, and bill payment
services
Receive Western Union equipment and training for you and your employees
Become part of a global network of business servicing millions of consumers annually
How to become a Western Union Money Transfer Agent
Call 1-800-325-6000 to learn more.
To begin the process of becoming a Western Union Money Transfer Agent, fill out the
online form linked here to be contacted by a salesperson.
At-A-Glance
Attract more customers to your business
Strengthen customer loyalty
Available worldwide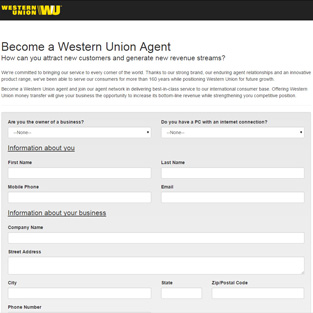 About AgentPortal
Learn about the new AgentPortal: a 'one-stop-shop' for Western Union Agent information.
Not Registered Yet?
Register today for information on the global launch of AgentPortal.